Join the ZStand Revolution
Work freely with the next evolution in portable workstations.  Whether you've got a big presentation at the office, at home recording family memories or simply video chatting to friends across the world.  ZStand is the ultimate in freedom and flexibility. 
Learn More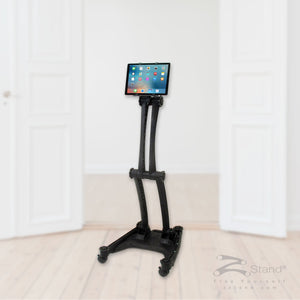 The Sportster
Sale price Price $299.00 Regular price
The Sportster Pro
Like all ZStand models, the Sportster Pro is ergonomically designed, made from 100% recycled materials and effortless to setup or take down.  The adjustable locking mount fits most every major brand name tablet and the ZStand's carefully crafted base provides maximum stability even when at the fully extended.
More Details
A New Level of Freedom
Never before has it been this easy to work from anywhere. The lightweight and portable design of the ZStand makes being productive a breeze. Setup takes seconds, leaving you with more time for the more important things.
Get Yours