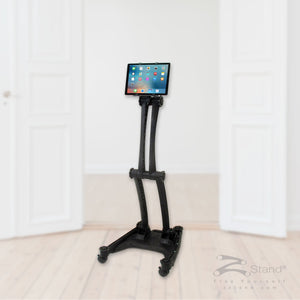 The Sportster
Sale price Price $299.00 Regular price
ZStand Sportster model is the ultimate in portability.  This simple but flexible version of the ZStand is perfect for on-the-go recording, hands free video conferencing, office presentations and much much more.
Quick and easy setup
Ergonomically designed
Made from all recycled materials
4' (122 cm) fully extended height
Collapsed dimensions of 17" (43 cm) x 11" (28 cm)
Adjustable mounting bracket for major brand name tablets
Sturdy design provides stability at full extension
Like all ZStand models, the Sportster is ergonomically designed, made from 100% recycled materials and effortless to setup or take down.  The adjustable locking mount fits most every major brand name tablet and the ZStand's carefully crafted base provides maximum stability even when at the fully extended 4' (122 cm) height.