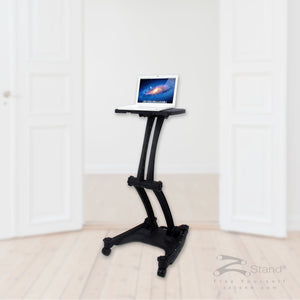 The Sportster LT
Sale price Price $299.00 Regular price
ZStand Sportster LT model is the ultimate in portability.  This simple but flexible version of the ZStand is perfect for on-the-go professionals in need of a desk outside the office.  Fits all laptops and/or wireless keyboards and mice for presentations!
Quick and easy setup
No-slip grip table for tablet peripherals and accessories
Made from all recycled materials
4' (122 cm) fully extended height
Collapsed dimensions of 17" (43 cm) x 11" (28 cm)
Sturdy design provides stability at full extension
Like all ZStand models, the Sportster LT is ergonomically designed, made from 100% recycled materials and effortless to setup or take down.  The ZStand's carefully crafted base provides maximum stability even when at the fully extended 4' (122 cm) height.