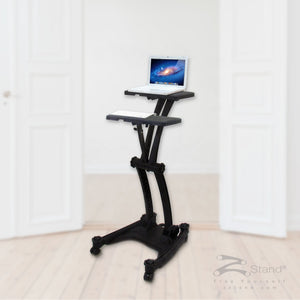 The Double Decker
Sale price Price $399.00 Regular price
The ZStand Double Decker is a on-the-go professionals dream.  Perfect for DJ's and live events with multiple pieces of equipment being used at once.  This unique version provides all the flexibility of the normal ZStand model with the inclusion of a second no-slip grip table for turntables, monitors, keyboard, mouse or any other peripherals.
Quick and easy setup
2 No-slip grip table for tablet peripherals and accessories
Made from all recycled materials
4' (122 cm) fully extended height
Collapsed dimensions of 17" (43 cm) x 11" (28 cm)
Sturdy design provides stability at full extension
Like all ZStand models, the Double Decker is ergonomically designed, made from all 100% recycled materials and is totally effortless to setup or take down.  The ZStand's carefully crafted base provides maximum stability even when at the fully extended 4' (122 cm) height.